*sigh*
Ok, I've made some progress today. My fingers are blistering and my back and arms hurt (cuz I'm, apparently, some kind of sissy-boy), but I present more of my Comm. Station...a work in progress... I'm semi-pleased with it, as it's coming along. I've made some mistakes, learned quite a bit, but I think, in the end, I'll be happy with it. And that's pretty much why I started it.
Here, you can see that I've seperated the walls and began cutting up the wood-slats. I hotglued them to the cardboard and it holds quite well, very solid. Gotta be quick, though...as the hot glue cools fast, so apply the wood to the cardboard quickly and carefully! Also, I did the window/door frames. The miter saw was a handy little tool to have for this!
One side down... I've stained the wood, and I like the dark color. It helps to hide the mistakes/imperfections a little better, plus, I think for a foresty-type of setting, it'll look nice. Check out the window on the right. Yeah, definitely didn't measure twice before cutting once.
I improved my window framing as the day wore on...
Hmm, it's starting to actually look a bit more professional...a bit more like a building...a bit more like a GIJoe Communications Station!!
Now this is something I'm especially proud of. These really awesome lights with a super-bendable/adjustable neck are available at WalMart for less than $3. Well, I carefully poked a hole through the wall, and carved it out, gently, and pushed the head through, shaping the neck as I needed. I attached the body of the flashlight to the wall behind (temporarily). I'm going to make an awning to cover up the light.
Flint, at night, coming out of the Comm. Station...the light barely illuminating the path in front of him. Something doesn't feel right here...
These pics were taken in a completely dark room, no flash. The only light provided was from the flashlight. I like it a lot. I bought 8, haha.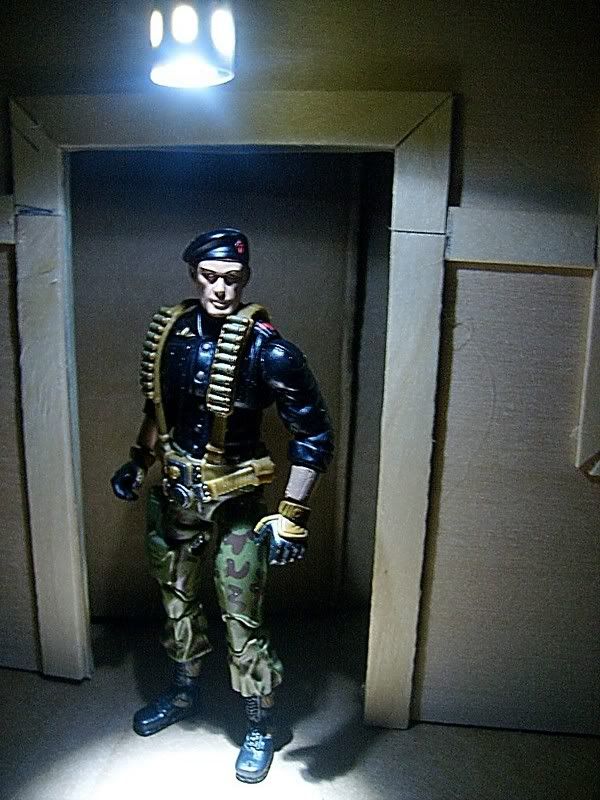 So, that's where I'm at at 5pm on Saturday. I haven't slept in almost 24 hours and boy am I feeling it!! Plus, I haven't eaten since 2am at work...all I had was a Toaster-Struedel at 10am. So, be kind, but how do you guys think it's shaping up?