Well, we're having a bit of a blizzard here in NE Ohio, so I didn't get a chance to go to Michael's after work today. However, that doesn't mean I shall not do anything! After working some more from home, I had a little bit of free time, so I decided to see what I'm going to do about the windows.
Here's what the window looks like beforehand. ScarFace and a Fred-series Crimson Guard are preparing to strike, whilst Flint moves in on LJ again. Give it a rest, lover boy, Cobra is about to strike!
I've cut up some more popsickle sticks. What I'm going to do is take some masking tape and fold it over on itself, effectively making it double-sided. Then, I shall lay one piece below the window on either side, and then one within the frame itself. I won't be using tape in the final product, but this will give me a better idea of what it's going to look like.
If you're a mackin', when Cobra's attackin', you best be packin' Snake-Eyes a backin'. :) Just a super quick photoshop and a view of what the window is going to shape up to be.
Here's a closer view. As you can see, not only is Flint safe from harm, but we've the makings of a window here!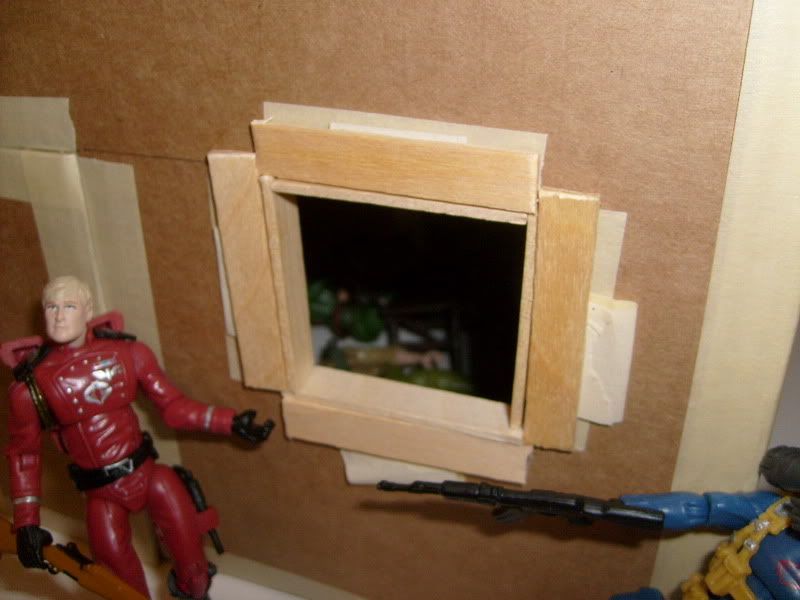 I may work more on the tower tonight, but we'll see. Perhaps not until tomorrow, or Thursday. Also, I think I figured out what I want to do to the exterior, so this weekend babies, it's going to be balls-to-the-wall so I can knock this puppy out!