Member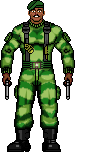 -->

Posts: 34

-->

Join Date: Mar 2005

SoCal Dreadnoks Mega Toy Sale
---
Hammerfel Im calling you out!

Rally the JoeDio troops and bring them down to our Mega GIJoe toy sale.

Here is the info

Its going to be May 5th starting at 10am @
Southern California Comics
8280 Clairemont Mesa Boulevard, San Diego, CA 92111

This is also free comic book day. I would love to see some new socal Joe fans there on sat. If Hammerfel sent ya just let me know.